On this page, we would like to give you a list of karaoke songs that are ideal for singing to your guests and relatives or just to yourself. There is nothing like a night out with friends filled with joy and fun, as well as some music. One of the best ways to shake away the stress that has been accumulating throughout the week is to have a karaoke night. You do not need to be extremely talented to sing a few songs from the bottom of your heart. No matter how old you are, music is capable of lifting your spirits. It is great for all age groups, and even the worst singers can have fun with some karaoke performances. Our job is to help you pick the best track that will light a fire in your heart and the audience. Hence, we put together this list for you, containing kareoke songs that will inspire you and your gang to sing along. Check it out.
Karaoke Songs to Add to Your Playlist
This post is all about music, and we want to share with you a list of the most popular songs for karaoke so far. Some of the tunes are quite old, you will see. You know, there are tracks that never grow old and which we will never get tired of listening to. The other pieces have been released in recent years and are very popular. Truth be told, we are happy that new tracks are gaining pace. It can be frustrating to listen to the same old songs every single time you decide to turn your karaoke machine on! It is time to make your music library more diverse. You can count on us to help you with that. We begin with a few tracks you can use to make your evening more fun. Take a look.
Ed Sheeran: Sing
One of Ed Sheeran's most entertaining songs will have your guests dance to the music and forget about their worries. It is not difficult to sing. This is not to say that the artist does not possess any singing skills. It is rather because the vocal range of this track is so good that unprofessional performers will be comfortable pulling it off. What is more, the rhythm is very captivating and enjoyable. No matter who gets to sing this song, they will be having lots of fun, and so will the audience. After all, isn't this what you are aiming for?
Shakira: Dare (La La La)
This tune is one of the best popular karaoke songs to sing along with your gang for several reasons. First of all, it has catchy lyrics that are easy to remember and sing along. Second, it is relatively easy to sing without making the audience feel uncomfortable. What is more, it is very taking, and it will have the others sing along with you as the music goes "La, la, la". The drums add to the entertainment. This song is a great addition to your karaoke playlist. It has two versions with different lyrics. One of the tracks was dedicated to the 2014 World Cup and hence the words are related to soccer. So, if you do not like to sing about sports, you can pick the other version. For the record, this song was included in the top karaoke songs 2014.
Justin Timberlake (& Michael Jackson): Love Never Felt So Good
Combining the King of Pop with Justin Timberlake, you get an enticing version of Love Never Felt So Good. It is so moving, it makes you want to dance. There is no way your friends are not thrilled to hear this song. It will cheer you up in the blink of an eye. Before you know it, everyone will be singing: "Baby, every time I love you in and out of my life". Fun is guaranteed.
Whitney Houston: I Wanna Dance With Somebody
The hit single I Wanna Dance With Somebody is among the top songs for karaoke. No matter how many years have passed, it still receives plenty of praises from old and new generations alike. It seems that in the past performers not only produced best-selling tracks, but also ones that could be classified as "timeless". Whitney Houston's I Wanna Dance With Somebody is proof of that.
You can never go wrong adding this unforgettable track to your top karaoke songs list. There are many reasons as to why you should do so. In the first place, it is easily recognizable. People know it and are likely to spontaneously sing it when they hear it. They also know the lyrics, which means they do not have to be staring at the screen for a couple of minutes until the track ends. Hence, you can be sure that the majority of your guests will enjoy it and have fun with it. Furthermore, it is full of rhythm. It gets you to stand up and start moving to the beat. Both kids and adults like it, although kids love the Frozen songs more. And lastly, it is Whitney Houston! You can barely skip her songs. They are so touchy and inspiring. You just can't help but sing along with her!
Backstreet Boys: I Want It That Way
The majority of people love classics. And this one is very likely to inspire you to grab the microphone and start singing the words. This track is still a hit today, and many people look forward to having the chance to sing it along; hence, they add it to their list of karaoke songs. The lyrics are well-known, and there is hardly any need to look at the screen while performing. It is also likely to make you want to dance. The band fell apart many years ago, but their songs are still loved by millions of fans.
Coldplay: A Sky full of Stars
A Sky Full of Stars is performed by the British rock band Coldplay. It is one of the many hits of the four singers that are worth your attention and is among the top songs for karaoke , believe it or not. If you have heard it, you are probably aware that this tune does not enhance the mood like the other suggestions on our list. However, the piano notes are so good and the track is actually danceable, so it is appropriate for a fun karaoke night. Reasons to include this song on your karaoke songs playlist? It is easy to perform because it does not have many words and its pitch range is great for the average person whose voice is not that strong and powerful. Although it is not as cheerful as the other tracks mentioned above, it is still going to make you want to dance with your hands up in the air. Some people find this track a little somber and yet it has topped karaoke clubs' playlists a number of times, so we guess there must be a good reason for it. Play the song to yourself, and you will be the judge of that. We would only like to mention the fact that the tune made it to the top karaoke songs 2014. The fact speaks for itself.
Other Karaoke Songs that are Worthwhile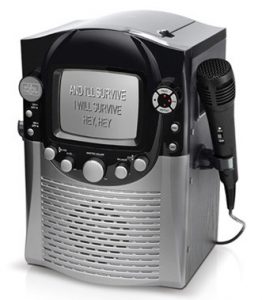 Ever since Adele released her debut album, she has broken numerous chart records. Her songs are favored everywhere. She does have a unique voice, and every song she records takes the world by storm. Needless to say, many people are willing to sing her pieces of music. If you are a fan of hers, it is a good idea to add a few hit songs she released during the years to your playlist, such as Someone Like You, Hello, Set Fire To The Rain, Rolling In The Deep, and Skyfall.
Now, another song that made it to the list of songs for karaoke is Call Me Maybe by Carly Rae Jepsen. The lyrics are easy to remember and pronounce, and the melody is catching. The song came out in 2012 and made it big.
Duets are also popular in the world of karaoke songs. These days, people seem to enjoy singing Somebody That I Used To Know by Gotye and Kimbra, as far as new songs are concerned. When it comes to old time classics, they seem to be moved by You Are The One That I Want and Summer Nights by John Travolta and Olivia Newton. It is crazy how these tracks are still appealing to music lovers today.
Other pieces that have recently been added to the karaoke machine songs list are What Makes You Beautiful by One Direction, Sexy and I Know It by LMFAO, and Living on a Prayer by Bon Jovi. Queen's timeless classic Bohemian Rhapsody is also on that list. Last but not least, you can opt for songs like Marvin Gaye's Let's Get It On, Prince's Purple Rain, and Bruce Springsteen's Born to Run.
Whether you just want to practice or you want to show what you have got, these songs can help you achieve your goals and also have lots of fun.
Popular Karaoke Songs to Avoid Pulling Off
But just like there are songs that are perfect for a karaoke night, there also are songs you should never try to sing or let others sing. The reasons vary. For one thing, some songs are quite depressing and are not appropriate for a night out that is supposed to be fun and entertaining. Another reason is that these tracks are quite difficult to perform unless your singing skills are as developed as those of the tracks' righteous owners. Last but not least, some tunes are considered annoying. Check out the following list to see if you agree with the titles.
Whitney Houston: I Will Always Love You
As much as we love this song, we have to agree that it is not everyone's cup of tea. And listening to an amateur singing those highs and lows can be pretty painful and cause all sorts of damage to the audience. Not to mention, it can be considered an insult. For everyone's sake, just try to stay away from this track when making a karaoke songs list, especially if the tune is out of your vocal range which it probably is.
Joy Division: Love Will Tear Us Apart
We are pretty sure that if you buy a singing machine with karaoke songs, it will not feature this one. Hands down, this song is good. But getting an amateur to sing it will not do them any good. First of all, it is really difficult to imitate the vocals; and second, this track was not meant to be used to entertain people or cheer them up for that matter. We can hardly be wrong by saying that this is a song about depression. Our guess is, you do not want to depress your friends and guests, so just steer clear of this tune and try to go for more positive tunes.
R.E.M: It's The End of the World
Leaving the title of the song aside for a while, we think that this track is way too fast for a non-trained performer. There are too many words and it is hard to utter all of them as quickly as you have to, let alone sing them along. It is a nice song, but the lyrics are impossible to sing. If you choose to play it anyway, it is going to be a real struggle for the performer and the listeners alike. About that title, we do not think it evokes positive thoughts. So, choosing this track for your karaoke party is a big no-no.
Johnny Cash: Hurt
This song is nice and beautiful, but it also is sad and depressing. Instead of giving your friends joy and happiness, you are likely to kill the fun for them if you pull off that masterpiece during your popular karaoke songs evening. We strongly recommend you avoid playing or singing this track at parties.
As we are closing down our post, we want to tell you a few things. The music you choose should be based on the tastes and needs of your friends and relatives, and whoever gets to be your guest. If you want to host a party, you should take into consideration your guests' preferences. So, some of the karaoke machine songs listed here may not be the best additions to your playlist if you like listening to some other kind of music. We are just hinting at the tracks you can include. If this task feels overwhelming, why not buy a karaoke machine with songs? You know, many singing devices come with CD+Gs with all sorts of music instrumentals on them. They will save you the trouble of looking for songs. You can also buy additional CD+Gs to increase your track choice.
So, this is the end of our list of karaoke songs. We hope it gave you a few good tracks to practice with so that you can show your talent to your friends and loved ones. Good luck with that.
More About Karaoke Singing
How to Karaoke With Your Co-Workers (Singing your Way to Success)
Welcome to the New Era of Karaoke (What is a Cool Karaoke Bar)